Introducing the Bodysmarty Kids Balance Board: Unleash Playful Development!
Elevate your child's playtime with our Bodysmarty Kids Balance Board – a versatile and engaging accessory designed for endless fun and developmental benefits. Crafted with precision and care, this balance board is not just for kids; it's an interactive tool for the whole family to enjoy. Let's dive into the distinctive features that make the Bodysmarty Balance Board a must-have addition to your home.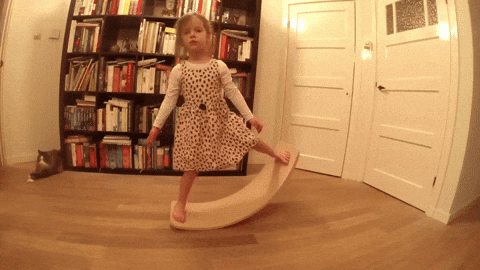 Sustainable Simplicity: Crafted with Care
At Bodysmarty, we believe in responsible craftsmanship. Our balance board is constructed using water-based lacquers, ensuring a sustainable and eco-friendly product. The simple yet sturdy design promotes balance, coordination, and imaginative play, making it an ideal addition to your child's playroom or family space.
Open-Ended Adventures: Fueling Creativity
Ignite your child's imagination with the open-ended possibilities of the Bodysmarty Kids Balance Board. From pretending it's a bridge to conquering the high seas, this versatile accessory invites children to explore and create, fostering creativity and problem-solving skills. The open-ended nature encourages a wide range of activities, ensuring your child's playtime is filled with endless adventures.
Easy Access for Little Explorers: Fun at Their Fingertips
Designed with accessibility in mind, the Bodysmarty Balance Board offers easy access for little explorers. Lightweight and portable, it's a breeze for kids to maneuver, allowing them to engage in active play independently. Watch as they develop motor skills and build confidence, all while having a blast with their new favorite playmate.
Safety First: Non-Toxic Construction
Your child's safety is our top priority. The Bodysmarty Kids Balance Board is crafted using non-toxic glue and paint, ensuring a worry-free play experience. Feel confident in providing your little ones with a product that aligns with our commitment to creating a healthy, safe environment for play and growth.
Built to Last: Strength Tested up to 200 kg
Durable and resilient, the Bodysmarty Balance Board is built to withstand the energy of active play. With a weight capacity of up to 200 kg, it's not just for kids – adults can join in on the fun too! Whether used for playtime, exercise, or as a unique seat, this balance board is a versatile addition to your home that stands the test of time.
Elevate playtime to new heights with the Bodysmarty Kids Balance Board. Discover the joy of active, imaginative play and foster the development of balance and coordination in a fun, family-friendly way. Order your balance board today and embark on a journey of laughter, learning, and shared adventures!
100% SATISFACTION GUARANTEE
More than 430+ satisfied customers have already preceded you and we have been able to provide our Bodysmarty ™ Kids Balance Board .
We stand behind our product 100%. That's why we offer a 'money-back guarantee'. 
We offer the customer the option to return the product 60 days after receipt.
We attach great importance to flawless customer service that is available 24/7 for all questions and/or complaints. 
Our products are BPA free ( BPA  is a chemical found in many plastic products, such as building materials, electronics, plastic bottles and toys)
It is made of high quality;

Safe material and watercolour;